Welcome to Simon&Co.
Simon&Co. is a boutique firm specializing in health and human services policy and appropriations and budget strategies. Our firm brings over 50 years of combined experience in legislative strategy, public policy analysis, and advocacy research to achieve the goals of our clients.
In addition to our legislative expertise, Simon&Co. offers a track record of successfully identifying and capturing federal and state contracts. A key strategy to our success is our ability to forge winning partnerships with Congress, the Administration, and other partners in the corporate and nonprofit sectors.
Our experience, background, and subject matter expertise allow us to provide the highest quality consulting services and to deliver results to our clients.
Simon&Co. is a Woman-Owned Small Business certified by the Small Business Administration
Simon&Co. Recent News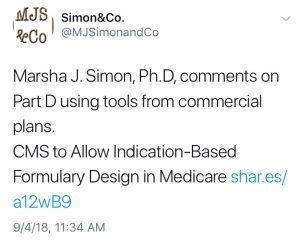 https://www.healthleadersmedia.com/clinical-care/cms-allow-indication-based-formulary-design-medicare
See below, a sign-on letter opposing elimination of #NEMT in Kentucky. The letter cites a new study on NEMT's return on investment. The study found NEMT more than pays for itself as part of a care management strategy for people with chronic diseases. https://t.co/QSFgJiAfRm

— Simon&Co. (@MJSimonandCo) August 21, 2018